Ho Chi Minh Mausoleum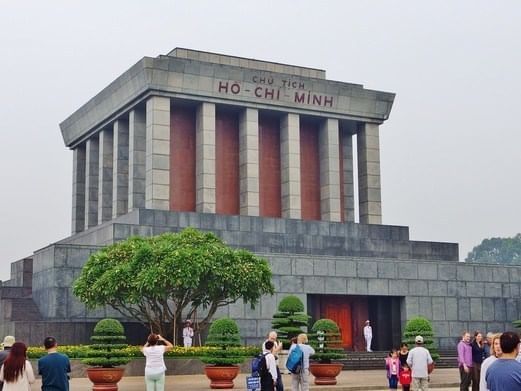 Ho Chi Minh Mausoleum in Ba Dinh Square is one of the most visited attractions in Hanoi. It is the final resting place of Ho Chi Minh, the most iconic and popular leader of Vietnam, known to his people as 'Uncle Ho'. His body is preserved here in a glass case at the Ho Chi Minh Mausoleum in central Hanoi.
For visitors, a trip to Uncle Ho's final resting place can be an extraordinary experience as it is not just an average attraction; it's a part of the country's unique history.
Security is tight and visitors should dress with respect (no shorts, sleeveless shirts and miniskirts) and everyone has to deposit their bags and cameras before getting in. Visitors are not allowed to stop and hold up the queue, as the place is constantly busy. 
Admission is free but donations are accepted.
Opening Hours: Tuesday - Thursday 07:30 - 10:30, Saturday & Sunday 07:30 - 11:00
Location: 8 Hung Vuong, Dien Bien, Ba Dinh, Hanoi
2 Hùng Vương 100000 Hà Nội Vietnam
Tuesday07:30 - 10:30
Wednesday07:30 - 10:30
Thursday07:30 - 10:30
Saturday07:30 - 11:00
Sunday07:30 - 11:00