The Vietnam National Museum of Nature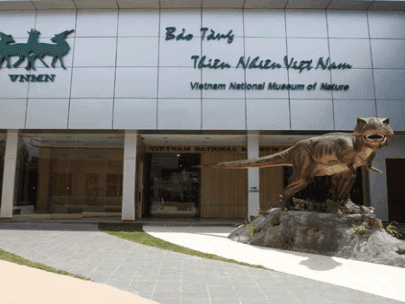 The Vietnam National Museum of Nature is a leading museum in the system of nature museums. It was established to showcase nature and environment, and exhibit information about basic features of Vietnam's nature.
Museum is a cultural-scientific organization with the function of museum research, collection, storage, preservation, assessment, display and introduction of specimens and artifacts of biological, geographical-geological, human and cultural aspects, documents on nature and natural resources of Vietnam and the world; basic research and investigation.
The Vietnam National Museum of Nature showcases a wide range of 40,000 exhibits including 6,000 species of animals (reptiles, amphibians, fish, mammals, birds, etc.), 25,000 species of insects (butterflies, beetle, dragonflies, cicadas, mantis, etc.),10,000 mushroom samples, 2,000 samples of the fields of geology and paleontology.
11 minutes travelled, 4.3 km far from Eastin Hanoi Hotel.
Number 18(B-C), Hoàng Quốc Việt street, Cầu Giấy district, Hà Nội
Phone/Fax: 024.37568328
Open: Every Day from 8h30 a.m - 16h30 p.m (from Tuesday to Friday for association or company visitors; sartuday to Sunday for single visitors, family,…)
Close: every Monday and Luna New Year