Bangkok Meetings & Events Venue
Host conferences & meetings at Eastin Hotel Makkasan Bangkok
Whatever the event, Eastin Hotel Makkasan Bangkok's modern Ballroom will give a touch of style to any function or event.
For smaller functions, the Eastin Grand Ballroom can be divided into two separate function rooms. Eastin Ballroom 1 has a capacity of approximately 150-250 persons depending on the type of function. Eastin Ballroom 2 is ideal for more intimate parties, seating up to 70 persons for buffet and Chinese tables.
The View Boardroom is located on 31st floor and consists of two rooms. The Boardroom can accommodate up to 25 persons and are equipped with a large boardroom table, executive chairs, built-in whiteboard, projector screen, flat screen TV and the latest technologies including Wi-Fi internet access and a service station for coffee & tea breaks in each room.
For more information please call +662 651 7600 or email adoc@eastinmakkasanbangkok.com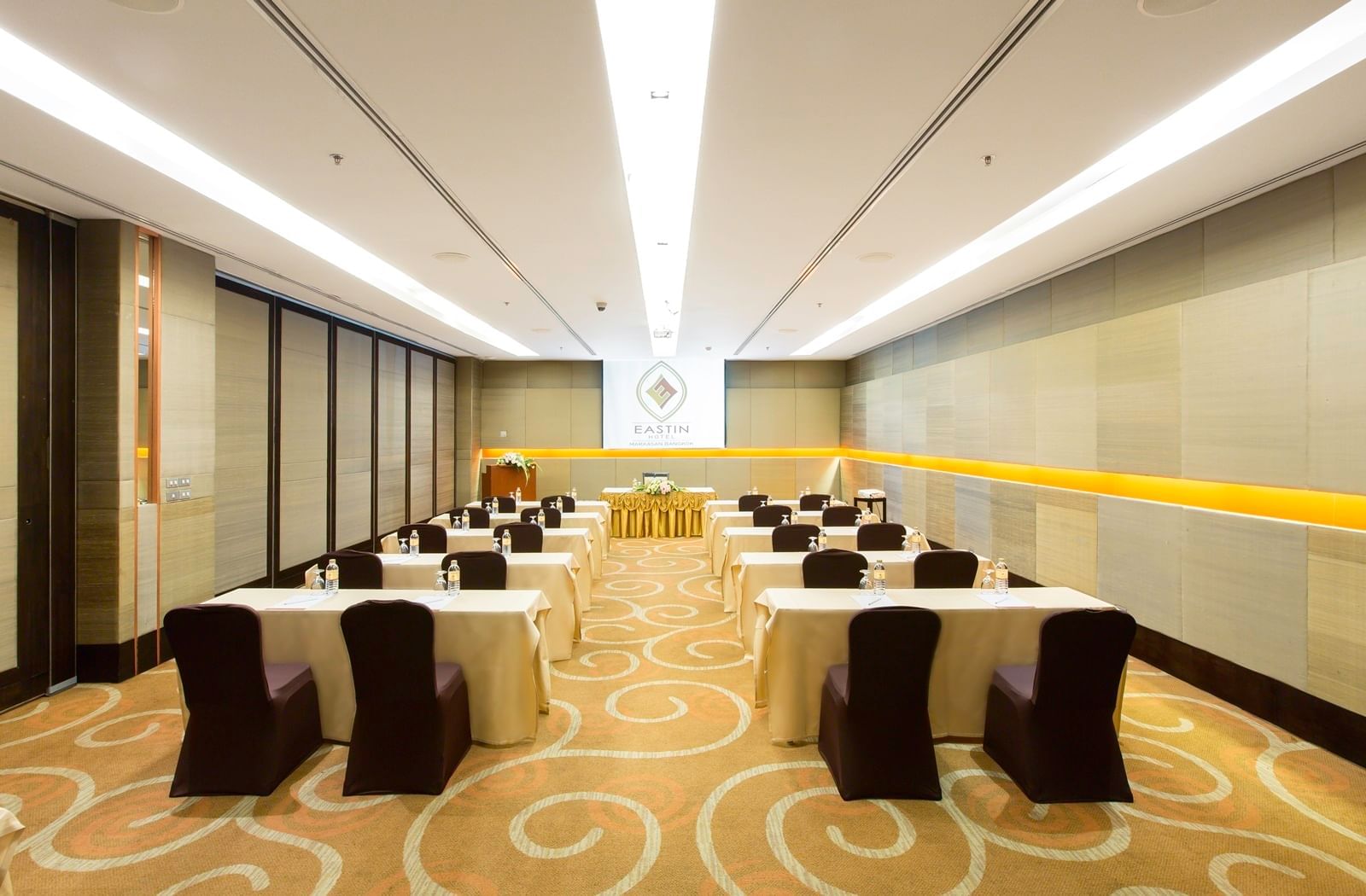 หากคุณกำลังมองหาสถานที่จัดงานเลี้ยงสังสรรค์ ไม่ว่าจะเป็น งานเลี้ยงบริษัท งานบายเนียร์ งานปาร์ตี้ส่วนตัว งานวันเกิดอย่างเป็นส่วนตัว โรงแรม อีสติน มักกะสัน กรุงเทพฯ พร้อมดูแลทุกความต้องการให้คุณสนุกสนานได้อย่างไร้กังวล ตั้งแต่การจัดเตรียมสถานที่ อุปกรณ์เครื่องเสียง อาหารแสนอร่อย ให้บริการโดยทีมงานมืออาชีพ
Coffee Break เริ่มต้นที่ ท่าละ 450 บาท
อาหาร แบบ Buffet เริ่มต้นเพียง ท่านละ 700 บาท
สถานที่ สามารถเลือกได้ ห้องอีสตินแกรนด์บอลรูม หรือ ริมสระว่ายน้ำ หรือ Attica Sky Lounge
เงื่อนไข ราคานี้สำหรับผู้เข้าร่วมงาน อย่างน้อย 50 ท่าน
สอบถามข้อมูลเพิ่มเติม หรือนัดเยี่ยมชมสถานที่ โทร 02 651 7600 อีเมล adoc@eastinmakkasanbangkok.com
CAPACITY CHART
| | | | | | | | | |
| --- | --- | --- | --- | --- | --- | --- | --- | --- |
| Function Room | Size (sqm) | Dimension | Ceiling Height | Theatre | Classroom | Rounds | Dinner | U -Shape |
| Grand Ballroom | 384 | 16 x 24 | 6 | 220 | 136 | 120 | 120 | n/a |
| Ballroom 1 | 208 | 16 x 13 | 6 | 72 | 60 | 60 | 65 | 27 |
| Ballroom 1/1 | 104 | 8 x 13 | 6 | 36 | 30 | 30 | 30 | 20 |
| Ballroom 1/2 | 104 | 8 x 13 | 6 | 36 | 30 | 30 | 30 | 20 |
| Ballroom 2 | 108 | 9 x 12 | 6 | 30 | 20 | 20 | n/a | 17 |
| The View | 34 | 4.5 x 7 | 2.4 | 9 | 6 | 6 | 6 | n/a |
| The Ten | 26 | 4 x 8 | 2.4 | 20 | 16 | 15 | 20 | 13 |
Company and Event Information