Executive Lounge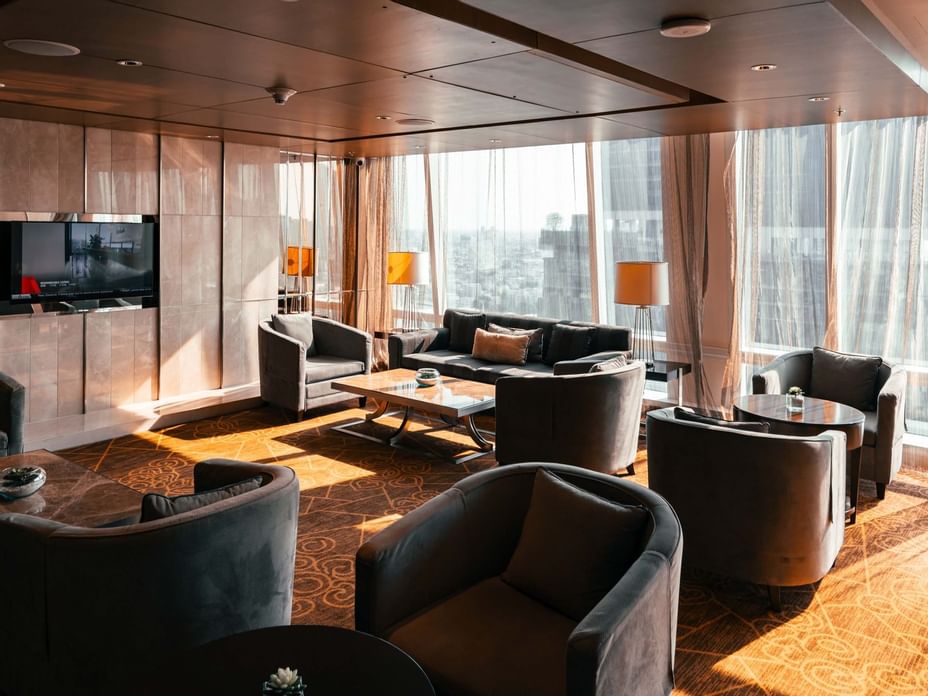 The Executive Lounge is located on the executive floor. As a guest of the Executive Level, you may enjoy the following complimentary services and amenities:
• Complimentary daily breakfast from 06:00 a.m. to 11:00 a.m. served in the Executive Lounge or The Glass House Restaurant on the 5th floor
• Complimentary coffee, tea, snacks and non-alcoholic drinks served throughout the day in the Executive Lounge
• Open bar cocktail reception including complimentary wine, beer, spirits, cocktails and hors d'oeuvres served from 05:30 p.m. - 07:30 p.m. in the Executive Lounge
• Free wireless connectivity and computer station with wired high speed internet
• Dedicated Executive Level Concierge services offering you the following:
- Local fax and photocopying service, restaurant bookings, travel information and planning, transportation arrangements as well as shoe polishing service
- Free local calls (not applicable for mobile phones and mobile numbers)
- 1 hour's use per day of the Boardroom (subject to availability) including coffee, tea, snacks and non-alcoholic drinks. Additional hours will be charged at 500 baht per hour including tax and service charge
- 24 hour access to the Fitness Centre
* All benefits stated above are for a maximum of 2 registered guests per room.
* An additional charge of 2,943 Baht will be applied for the 3rd person or visitors of in-house guests. Guests staying on the Executive Level may invite outside guests to join them for breakfast at 700 Baht per person, Coffee/Tea and snacks at 236 Baht per person and for the evening cocktail reception at 589 Baht per person.
* All prices are inclusive of 7% VAT and 10% service charge.
* Please note that there is a "smart casual dress code" for guests using the lounge at all times, hence male singlets and tank tops, swimwear, beachwear, bathrobes, etc. are not suitable attire for the Executive Lounge.