Sunday Walking Street Chiang Mai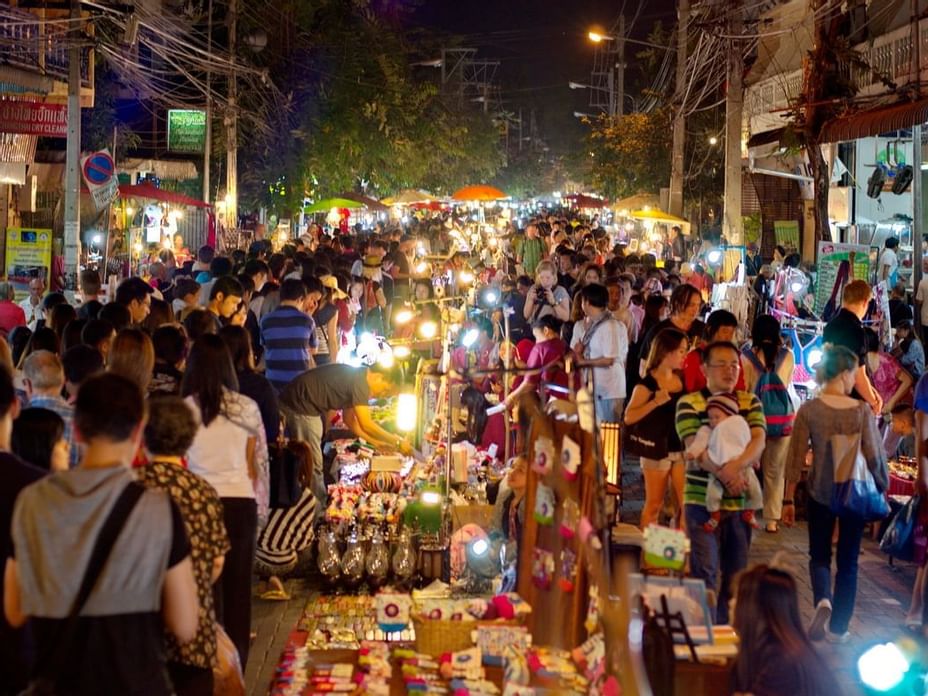 The Sunday Weekend Walking Street is easily the most popular shopping experience in Chiang Mai. A vibrant spectrum of art, crafts, music and food – with handmade quality goods and souvenirs that echo the spirit of Northern Thailand.
The Sunday Walking Street serves as a venue for all kinds of local events, from dance recitals to beauty pageants and the sois (lanes) on either side of the main road feature stages and performance spaces. It starts at ThaPae Gate and runs all along Ratchadamnoen Rd, for around one kilometre. As the name suggests it takes place every Sunday from 16:00 until around midnight. The road is closed to traffic during this time, and as one of the most popular tourist attractions in the city, it does get busy.
Take a stroll in the soft light of dusk while sipping on fresh fruit juice, browsing handicrafts and snacking on random delicacies to the lilting accompaniment of traditional Thai music being played by street buskers. While air-conditioned malls offer a pleasant escape from midday heat, the outdoor markets, the Sunday Walking Street near Tha Phae Gate will undoubtedly be a highlight of your trip.