Winter Treat Promotion - Free Upgrade
Book Superior Room and get free upgrade to Superior Sky Room
Read More
New Year's Eve Celebrations
Countdown to 2024 with us in a glittering style! A remarkable venue to see in the New Year, offers the perfect setting to view the capital's dazzling views and fireworks!
Direct access to Sky Train
Welcome to Eastin Grand Hotel Sathorn Bangkok
Discover our luxury hotel in Sathorn Business District
Eastin Grand Hotel Sathorn Bangkok is one of the premier hotels in Bangkok's luxury hotel sector.
We are a non-smoking hotel and all guest rooms are non-smoking. This deluxe luxury property is centrally located in the Sathorn business district and a short drive via the nearby expressway to Suvarnabhumi International Airport. It is unique in being the only hotel in Bangkok with its own direct access to the BTS Sky Train system at Surasak Station literally bringing the city to your doorstep.
All 390 luxuriously appointed rooms and suites are decorated in soft, subtle tones and feature the latest amenities for the comfort of both leisure and business travelers while enjoying stunning views of Bangkok's imposing skyline.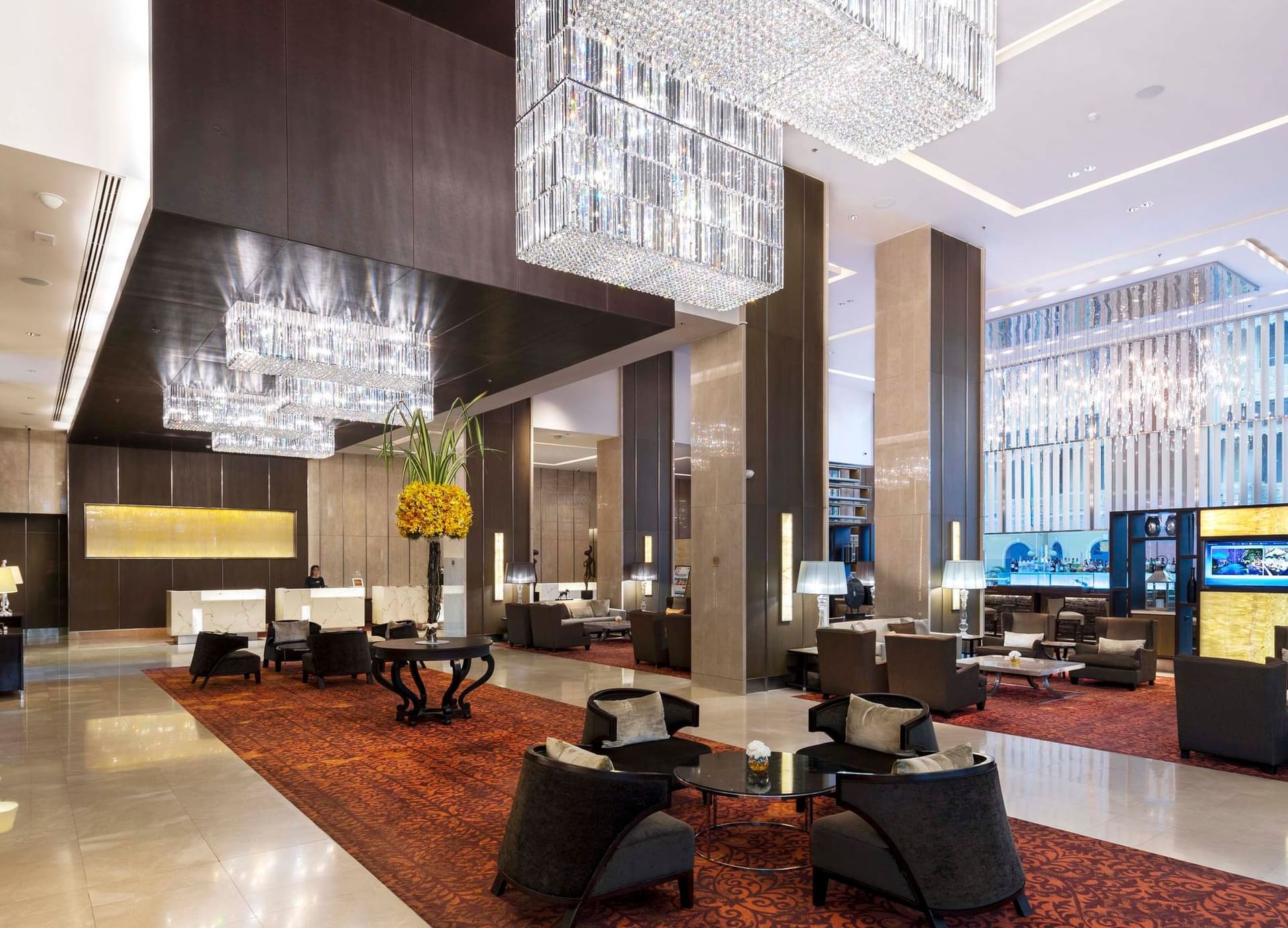 SPECIAL OFFERS
Make the most out of your trip with our exclusive Bangkok accommodation deals
RESTAURANTS & BAR IN SATHORN BANGKOK
Find out where to eat and drink in Bangkok
Choose from variety of dining options at Eastin Grand Hotel Sathorn Bangkok. Our lounges & restaurants provide the perfect setting for a relaxing atmosphere.
Meetings & Events
Host successful meetings & events in our Bangkok hotel
Eastin Grand Hotel Sathorn Bangkok has a range of facilities to suit a wide variety of meetings and events. The Surasak Ballroom can accommodate up to 600 guests cocktail style and can be separated into 3 rooms for private functions. The hotel also features 2 boardrooms and 6 conference rooms with a capacity of 20 to 100 guests and all areas enjoy the benefit of natural light. 3 of the conference rooms are located on the 33rd floor offering spectacular views of the city skyline.
Wedding in your dream
สำหรับคู่รักที่กำลังมองหาสถานที่จัดงานหมั้น และงานฉลองมงคลสมรสที่มีระดับ เดินทางสะดวก ตั้งอยู่ใจกลางเมือง บนถนนสาทรใต้ เข้าออกได้หลายทางและมีทางเชื่อมต่อจากรถไฟฟ้าบีทีเอส สถานีสุรศักดิ์ เข้าสู่ตัวโรงแรมฯ โดยตรง พร้อมทั้งทีมงานมืออาชีพที่พร้อมทุ่มเทและเนรมิตงานวิวาห์ในฝันของคุณให้เป็นจริง
ทางโรงแรมฯ มีห้องในขนาดต่างๆ และแพคเกจงานแต่งงานที่คู่รักสามารถเลือกได้ดั่งใจปรารถนา ห้องสุรศักดิ์ บอลรูม ห้องจัดเลี้ยงที่ได้รับการออกแบบตกแต่งอย่างหรูหรา โอ่โถง สามารถรองรับผู้เข้าร่วมงานได้ถึง 600 ท่าน โดดเด่นด้วยผนังกระจกจากเพดานจรดพื้นเพื่อเปิดรับแสงธรรมชาติ พร้อมชมวิวเมืองกรุงเทพได้แบบพาโนรามา หรือจะเป็นห้องสกายเลาจน์ บนชั้น 33 ชั้นสูงสุดของโรงแรมฯ ที่ให้บรรยากาศแบบเป็นส่วนตัว เหมาะสำหรับการจัดงานหมั้นหรือรองรับแขกไม่เกิน 100 ท่าน
ติดต่อเข้าชมสถานที่จัดงานจริง หรือสอบถามรายละเอียดเพิ่มเติมได้ที่
Wedding Specialist
โทร +662 210 8100
Email: wedding@eastingrandsathorn.com
ACCOMMODATION
Luxury Hotel Rooms in Bangkok