Your Executive Chef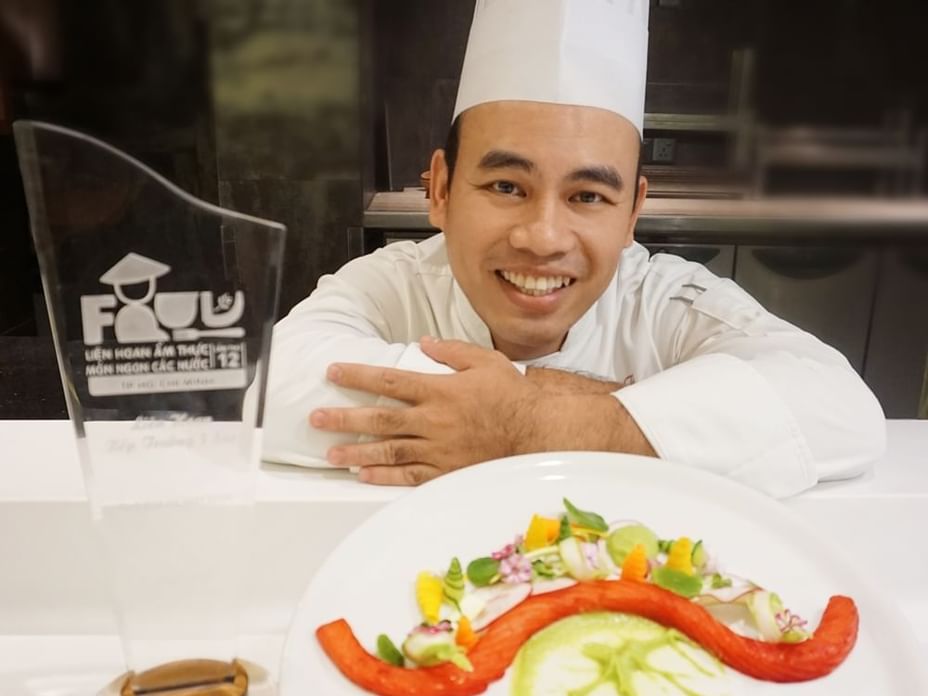 Meet Chef Hoang Mai Tai
Pioneering in the art of cuisine
Thanh Van talks to chef Hoang Mai Tai the mastermind behind the pioneering menus of Eastin Grand Hotel Saigon, about creating a new dining experience for patrons in 2018.
Can you briefly introduce your experiences as a chef?
I started my career in the restaurant and hospitality industry 10 years ago. My specialty is creating dishes that are visually pleasing. In a recent culinary competition for chefs from 13 five-star hotels in Ho Chi Minh City, I was fortunate to win three awards for best decoration. I hope to bring my own flair and passion to create more visually stunning dishes for patrons of Eastin Grand Hotel Saigon.
Which specialties in fresh dining experiences will Eastin Grand Hotel Saigon bring its customers in 2018?
We are on a mission to create a better experience for our customers. So far, we have put great effort into the all-you-can-eat seafood buffet, which will take place every Saturday starting from March 2018, where patrons can savour serving upon serving of sumptuous seafood at Café Saigon on the ground floor.
We have set up a heaped seafood bar with unlimited plates of lobster and a wide selection of freshly-caught delicacies. Diners can gorge on rows of fresh seafood such as crab, lobster, king prawns, clams, mussels, oysters and many other treats from the sea.
We have also revamped our menus to attract more residential guests and outside patrons. We have retained the best-selling dishes while adding new items and improved options to create a more enticing menu.
What makes the menus stand out?
We make efforts to deliver a high level of food quality and consistency in our restaurants.
Our menus reflect our appreciation of the freshest and healthiest local produce serving delicious flavours to suit all tastes and palates.
The restaurants offers a fine dining experience with a twist, serving unique dishes influenced by Vietnamese, Asian and Western cuisine. We also keep up with trends to satisfy changing palates. For example, as Western cuisines become more popular in Vietnam, we have added pizza and pasta to our wedding menu.
On top of that, we take classic recipes to the next level by using local, seasonal ingredients such as the young shoots of bitter melon and centella asiatica to enhance the flavour of chicken. We are committed to coming up with the most craveable, creative menu items that set the bar for what great food should be.
What is your signature dish on the new menu and why was it chosen?
One of my signature dishes is Norwegian salmon fillet marinated with beetroot jus served with spring vegetables, green pea mousseline and sugar beet dressing. This was my winning dish in the competition for five-star hotel chefs.
I created this dish because it shows a novel combination and refined techniques. It is impossible not to be drawn to the incredible colours of the dish. The vibrant orange salmon flesh stained with the ruby beetroot is stunning.
Do you think the way Vietnamese people cook their seafood is unique and special?
Vietnam is a country that is criss-crossed with rivers and streams, with an extremely long coastline. Fish and shellfish, both freshwater and saltwater, are abundant. Vietnamese seafood cuisine is considered to be one of the healthiest foods in the world.
It is especially nutritious as it includes fresh herbs, spices, and vegetables, a perfect blend of heat, sweetness, and sourness, fish sauce, and freshly caught fish or shellfish. There are plenty of flavourful choices for diners from tamarind crab and lemongrass steamed clams to grilled scallops with spring onion.
What makes the hotel an attractive destination for food lovers?
For lovers of Cantonese cuisine, Tung Garden on the first floor of Eastin Grand Hotel Saigon, invites you to enjoy delicacies prepared by Hong Kong chef. The restaurant features enticing Chinese cuisine and Dim Sum along with a full lunch and dinner menu.
Meanwhile, Café Saigon is a unique buffet-style all-day dining restaurant that combines fresh ingredients with unique recipes and daily breakfast, offering the perfect way to start the day. The interactive buffet features six live cooking stations offering the freshest of local produce where the expert team of chefs prepare culinary delights right in front of patrons, providing flavours and experiences from Vietnam, Asia and around the globe.
Cay Da Café is the ideal location for a quiet meeting or kicking back with friends and enjoying a relaxing coffee or specialty tea, herbal tea or smoothie. The restaurant has plenty of flavourful choices from the freshest sandwiches and pies to imported deli items as well as a mouthwatering array of homemade ice creams and freshly-made cakes and pastries.